I think every reader can agree that our TBR's are sky high and always will be becasuse as they say, there are so many books but so little time. This is a tag consisting of nine different questions revolving around those scary books on your shelf that are just waiting for you to pick them up, and I am really excited to tackle them and share with you guys some of the books on my TBR!
(By the way…this book was created by YouTuber Lindsay Rae!)
The Questions: 
1. What Book Have You Been Unable to Finish?
Honestly, I despise starting a book and not finishing it but even while saying that, there are a few books that I just haven't been able to finish. The most recent one that comes to mind is one I actually put down a few days ago and that is Meet Cute by a number of well known authors. I was super excited about this cute contemporary but I just felt that since it was an anthology, the stories were too short for me to connect with the plot and characters and I didn't feel interested in the stories much at all. I am sure that if I wanted to I could finish it, but at this time I don't really feel motivated to.
2. What Book Have You Yet to Read Because You Haven't Had the Time?
Okay so I absolutely adored the first book in this series but the sequel is just so massive and intimidating that it would take me forever to get through and right now, I don't have the time for a dense read! That book is A Court of Mist and Fury by Sarah J Maas, the sequel to A Court of Thorns and Roses. I adored ACOTAR and had heard amazing things of the sequel, however it is a big book, you know? Big books take a long time for me!
3. What Book Have You Yet to Read Because It's a Sequel?
Hands down the answer to this question for me would be Empire of Dust by Eleanor Herman which is the second book in the Blood of Gods and Royals series. This is a book that takes place during the era of Alexander the Great which means it has Greek mythology in it so I absolutely adored it. However, when I read the first book the sequel was not out, and by the time I got the sequel I forgot everything about the world and characters. So when I do feel like reading this book, I have to also re read the first book before picking up the second and at this point in time I am not motivated to pick up a historical fiction book!
4. What Book Have You Yet to Read Because It's Brand New?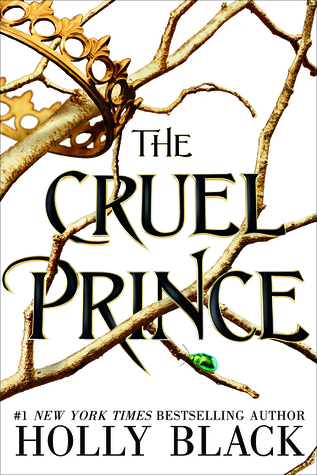 The Cruel Prince by Holly Black is a book that just came out in January and may be the most hyped up book of 2018…and yeah that is super intimidating. I am worried that the hype will get to me and I won't love it as much as everyone else does, and I don't want that because it sounds amazing! It has faeries and magic so basically everything I love. Hopefully I will get to it soon, but maybe once the hype dies down a bit.
5. What Book Have You Yet to Read Because You Read a Book By the Same Author and Didn't Enjoy It?
I have read most John Green books however I have not picked up Turtles All the Way Down (which is currently another really hyped book) because I haven't enjoyed any of his other books. Paper Towns wasn't that bad in my opinion, but nothing really gripping happens that can make me say I enjoyed it. I have also obviously picked up The Fault in Our Stars and Looking for Alaska but those were definitely not ones I would pick up again. Maybe I would love his new book but I am just a little hesitant since I have liked any of his others!
6. What Book Have You Yet to Read Because You're Just Not In the Mood?
The Name of the Wind by Patrick Rothfuss…another book that I have only heard amazing things about but right now I am not in the mood for high fantasy. It is a genre that is hard for me to get into even though I have only positive experiences within the genre. I do really, really want to get to it at some point, but when I am in the mood for the genre so that I can enjoy it to its full potential.
7. What Book Have You Yet to Read Because It's Humongous?
This is a book that I am really ashamed to say I haven't gotten to because this is a book by one of my favourite authors…and that is Tales from the Shadowhunter Academy by Cassandra Clare. This is a collection of stories following Simon Lewis that all connect with one another, and while I did read like fifty pages of this book, I put it down for some odd reason and never picked it up again. This is a big book at 672 pages so yeah, I am little intimidated to pick it up again, even if it is in one of my favourite fictional worlds.
8. What Book Have You Yet to Read Because It Was a Cover Buy That Turned Out to Have Poor Reviews?
Hmm…I don't think I've ever bought a book solely based on its cover but then never picked up due to poor reviews because I like to make opinions for myself. However, instead of that I am going to twist the question and just share a book that was a cover buy for me that I have yet to get to. One book that I bought 1) because it is a companion to a series and 2) because it has a beautiful cover, is The Assassin's Blade by Sarah J Maas. Bought this maybe three or four years ago yet I still haven't read it so I need to get on it!
9. What Is the Most Intimidating Book on Your TBR?
Hands down the most intimidating book on my TBR is All the Light We Cannot See by Anthony Doerr. This is a historical fiction book that takes place during World War II and while I have read already fifty or so pages of it, I have not picked it up in a while. It is so dense that I am little to read it but since I did enjoy what I read I am sure I will get through it sometime this year…hopefully.
And that is all for this tag! I tag anyone who wants to do it because it is such a fun tag that really opens your eyes to what books you should add onto your upcoming TBR's. Anywyas, I hope you enjoyed and don't forgete to check out my last blog post: Should You Take a Creative Break?
Other Places You Can Find Me:
Twitter:@zoermathers
Pinterest: @zoermathers