This is my second time writing this because airport wifi is terrible and didn't want to save anything I had written.
Anyways, I wanted to say sorry for falling off the face of the blogging world for the past week. I was on vacation and while I originally planned to upload during my time away (I even pre-wrote a few for the first few days I was on vacation in California), I ended up not writing anymore and not having any inspiration either for posts either. However, it was a nice creative break especially since April is going to be a month filled to the brim with writing and reading related things! So since I am on my way home and will be back tonight which is Saturday although when you see this it will be Sunday…anyways expect a normal upload schedule for next week!
I didn't get as much reading done as I originally hoped, but I did manage to get some done while traveling. Going into this vacation, my original plans were to finish Labyrinth Lost by Zoraida Cordova and read about 100 pages of The Book Thief by Markus Zusak. I did not accomplish any of that. I did get to about 150-something in Labyrinth Lost which means I am halfway through the book and still got a good chunk to go. The book started off really strong and I was interested and excited, but towards the middle things became a little confusing for me and the pace kind of just lulled. I do plan on finishing it though and I am really hoping it will pull through for the last half! As for The Book Thief, I think I only read about 50 pages meaning I still have 150 pages left to go, and all of that has to be read by Wednesday! Anyways, I also started reading an unexpected book that I picked up because I happened to be in the right city when a certain author was having a book signing for her new book…and that book is I Have Lost My Way by Gayle Forman! I just happened to be in San Diego the right day, and I was so excited to see her in person and listen to her not only talk about her new book, but also the writing struggles she had gone through in her career. I have read a few of Gayle Forman's other books, such as If I Stay, Where She Went, One Day, and One Year, so I was really happy to meet an author that I thought so highly of. It was a lot of fun and was actually my first book signing! I would definitely recommend keeping an eye open at your local bookstores for events like these because it was worth it.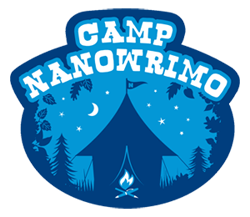 Wow, that was a long reading update so get ready for a probably lengthy writing update too! As this post is coming out, it is Sunday, April 1st, AKA Camp NaNoWriMo day 1! I have been viciously planning and researching and tying up all the loose ends of my outline this past week, and only just now am I (kind of) ready to write. I have left my outline loose on purpose because I have realized over the years I work better with less structure so I don't lose inspiration and momentum throughout writing. If you too are just finishing your outline, or looking for some inspiration to give you that final push then check out my Camp NaNo prep posts which will be linked down below. Overall I was really proud with all the work I got done on my outline during my vacation, and it just proves to myself how passionate I really am about this project and now I just cannot wait to dive into this new world! Another writing project I want to start on is this really short story idea I have that was inspired by a literary magazine's current submission prompt, so fingers crossed I can quickly pump out that story for April 6th which is the deadline! Hopefully I am not putting too much on my plate but I am sure I can get most of it done…right?
Anyways, that was my really long reading and writing update and I hope you enjoyed! Keep an eye out for my upcoming blog posts this Monday, Wednesday, Friday and Sunday because I will be returning to my regular posting after my unexpected hiatus. Don't forget to check out the blog posts linked below for some more writing and book related content!
Last Blog Post: April Anticipations
Camp NaNo Prep: Outlining Tips, Creating Characters, Research
Other Places You Can Find Me:
Twitter:@zoermathers
Pinterest: @zoermathers