I made a blog post earlier on about bingeable book series, and since I love TV so much I decided to make a bingeable TV series post as well. These are TV series that have finished or are quite a few seasons in, that are very bingeable and addictive. A lot of these shows are pretty popular, but I threw a few that I don't hear about that often in as well so I hope you enjoy!
The Vampire Diaries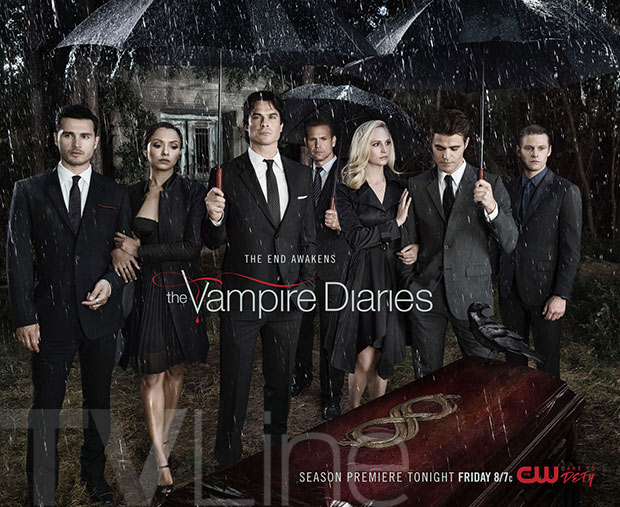 I obviously had to start with my favourite TV show of all time because it is amazing, and one of the most bingeable series out there. The Vampire Diaries just wrapped up its final season (season 8) last fall which was really sad but I suppose all good things must come to an end. This series follows a girl named Elena Gilbert who after the death of her parents, meets a mysterious boy named Stefan Salvatore who saves her from the sadness she felt about her parents. With Stefan in her life, secrets unravel and truths rise up not only about Stefan, but about Elena that she never knew. If you haven't watched this series just go watch it because even though it has its cheesy, cliche moments (quite often too) it  is fantastic!
Once Upon a Time
Honestly, I have no idea if they are done filming this TV show because this past season has NOT been a favourite of mine at all. However, the first five seasons are really enjoyable in my opinion, and definitely deserve to be watched. I love watching this TV show during the winter because it is dark and cold outside, which perfectly reflects the mood of Once Upon a Time. Once Upon a Time follows a cast of characters who do not remember that they are fairy tale characters placed in the real world by the evil queen, and it is up to the queen's son, Henry to find the savior and bring her back to Storybrook to break the curse. If you like fairy tales you will adore this TV show because I know I did!
Castle
Castle is a murder mystery TV show that follows famous writer, Richard Castle as he works with the New York Police Department to solve homicides in research for his new books. I absolutely adore this TV series because while it is calculating and intriguing with its murders and situations, it is also funny and witty due to the amazing characters. Castle recently wrapped up its final season last year (season 8) and I was so devastated because the show is so great and deserved a little more air time!
The 100
This is one show that I have been watching since day one and it is an emotional roller coaster let me tell you. The 100 follows a group of teenaged prisoners who had been sent down to post-apocalyptic earth hundreds of years after a nuclear war to see if the ground is survivable. Because the ground may not be survivable, they had lived in space for hundreds of years but it is time they return to earth, but they learn to question whether or not the earth is still survivable and if they are the only ones down there?.You will want to watch this show non stop because it leaves you on the edge of your seat wanting more, which is the best reaction to a TV show you can get!
Grey's Anatomy
You cannot help but binge Grey's Anatomy because it is so dramatic and addicting that it takes over your life for a few weeks. Grey's Anatomy follows a group of interns at the hospital, Seattle Grace, as they try to become doctors and figure out what they want in life. That is my basic description of it but there is so much more that goes down and it is just amazing. Go watch it!!!
Merlin
I found this TV show a few years ago and flew through it because it was really good. It takes place during the age when King Arthur was alive, and follows our main characters Merlin, who is struggling to understand the powers he has, and Arthur, a young man who is also struggling to understand his destiny. There is lots of mystic and magic which I really enjoyed, and now thinking about this TV show I really feel like rewatching it!
Those are a few bingeable TV shows and I hope you enjoyed. Don't forget to check out my last blog post: August 2017 Wrap Up!