It's already that time of the year: The time where I reflect on the books I read and choose my favourite books.
My goal was to read 25 books this year but that didn't work out…Instead, I read 16 books. I'm fine with this because it was a busy year! I did full-time school and part-time work, and I also had a really difficult year mentally. So, 16 books it is!
While I didn't read a lot, what I did read was really good. For me, it was the year of thrillers as I discovered my love for them, so prepare yourself for many of those to make my list. Like I said, I didn't read a lot, but I thoroughly enjoyed every single book I read.
That's a successful reading year to me!
So, let's dive into my top 4 favourite books of 2021.
---
1. A Good Girl's Guide to Murder by Holly Jackson
This book took me one day to read, and it's hard nowadays for me to read that quickly.
I bought it on my Kindle after hearing a BookTuber rave about it, and just absolutely devoured it. It was sooo good!
This is a thriller book following a teenage girl who is obsessed with true crime and solving a murder that happened a few years ago in her hometown. It's technically solved but Pip is determined the alleged murderer is not the real murderer, and she has taken it upon herself to discover the true killer.
A Good Girl's Guide to Murder is a fast-paced and addicting read that you will NOT be able to put down. If you are into true crime, you will love this book!
5/5 stars
2. Chain of Iron by Cassandra Clare
Who is surprised to see Chain of Iron on this list? Not me, that's for sure.
I knew I would love this book, and I did. Even though like Clare's last few books, it took a bit to get the plot moving, I enjoyed every second in this world surrounded by the characters.
That's what really makes this series: The fantastic cast of characters that I just adore.
I cannot wait for the next book, and I am already itching to do a re-read of this book!
5/5 stars
3. Good Girl, Bad Blood by Holly Jackson
Most thrillers don't have a sequel because how many true crime-related events can happen to one person? Well, Holly Jackson can make a lot of bad things happen to Pip and have it be believable.
I was a little skeptical about this sequel, but it did not disappoint. The storyline in Good Girl, Bad Blood builds off of the first book and is so interesting. It had been on the edge of my seat and I had no idea who the culprit was or honestly, anything that was going to happen.
It felt like with every flip of the page I was being surprised.
If you read A Good Girl's Guide to Murder and not the sequel, get on it now!
4.5/ stars
4. Malibu Rising by Taylor Jenkins Reid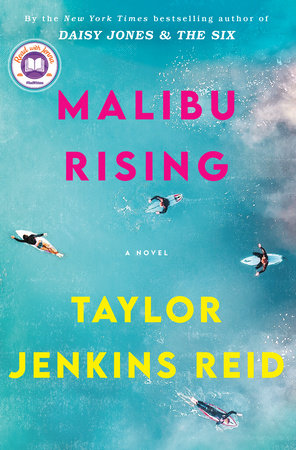 I am a HUGE Taylor Jenkins Reid fan, so I had high expectations for this book. While it wasn't my favourite of Reid's books, I did really enjoy it. (Duh, it made it on my favourites list.)
Like many of her other books, I flew through this story. It gripped me from beginning to end, however, the end definitely wasn't as strong as the first half of the book, which is why this book only gets a 4/5 from me. I noticed a lot of other readers mention this too. It just felt like Reid wanted to wrap up the story quickly, but other than that, I highly recommend this book.
4/5 stars
---
Those are my top 4 favourite books of 2021. I'm really happy with this list and cannot wait to get back into reading more this new year!
What books did you read this year, and which were your favourites? Let me know in the comments below!
Check out my last blog post: My Proofreading Services