Once again, I have risen from the dead after three-and-a-half months of university and work to bring you my April and May TBR!
April is one of my favourite months because classes come to an end (finally! My last class is April 12th) and summer starts. While I will be working full-time all summer (life update to come!), I plan on spending a LOT of time reading and writing.
Around this time last year, I was in a horrible reading slump, but it is quite the opposite this year. I feel more inspired to read than ever lately, probably because I just finished Chain of Iron by Cassandra Clare, which of course, I loved! Regardless, I have a fairly ambitious TBR for April and May and here are those books on it:
Archenemies by Marissa Meyer
The sequel to one of my favourite recent reads, Renegades, Archenemies is a book I had meant to pick up earlier, but as always, life seems to get in the way! Now, two months after I finished Renegades, I am finally diving into this book and am already around 100 pages in–and so far, I'm liking it.
Renegades takes place in a world like ours where superheroes or "Renegades" are part of reality and have established peace and order after the chaos of villains. Nova, a prodigy with allegiance to the villains, is on a mission to seek vengeance for the death of her family–which takes her to the Renegades headquarters where she will pose as one of them. However, she can't help but grow close to one of the Renegades, a boy named Adrian, which complicates Nova's overarching plan to take them all down.
The Storm Runner by J.C. Cervantes
One of my reading goals for this year is to read more Latinx-based books by Latinx authors (being part Mexican myself). The last few years, there has definitely been a surge in these books, which makes me SO happy. However, now I am just trying to keep up. The Storm Runner is inspired by Mayan mythology, but other than that I am going into it blind. The only other thing I know is that it's published through Rick Riordan's publishing house, so I'm sure it's good!
Inanna's Bargain by Claire Sulos
Another mythology-inspired book, Inanna's Bargain has been on my reading list for around two months because it is inspired by Mesopotamian mythology, which is something I have never read before in YA. I am super intrigued to see what I think of it, and also learn about Mesopotamian mythology. The last time I read about Mesopotamia was in grade eight, so I don't really remember much about it!
Inanna's Bargain follows, Samri, a priestess of the goddess Inanna, and Kianu, a gala priest and an acclaimed dancer. The two are sent on a mission by Inanna to help the king intercept an evil that threatens them all before it is too late. This story is all about family love, as the two protagonists are half-siblings, dangerous quests, and magic.
After Hours (anthology) by AC Arthur
I have wanted to expand my reading taste lately, and since I have became an author assistant (more info in my life update!) for this romance author, it is the perfect time to do so. I know I will like romance, but with school and work, it has been hard to read more adventurously. However, I am a few chapters into this book already and I've been enjoying it. With summer around the corner, it is the perfect time to get into romance too!
After Hours includes multiple stories all following workplaces romances as well as sexual harassment, and how the strong female characters deal with it. I think this is really important to read about, especially with movements like Me Too coming into light, so I am looking forward to seeing how AC incorporates them into her stories.
The Sweetest Valentine by Lacey Baker
Another romance book on the list, and this one takes place around Valentine's Day, but hey, there's no rules for reading holiday-themed books! This book takes place at a wine and chocolate festival (yum!), bringing together Hollywood actor, Kelan, and Sweetland-native, Sydni. However, while their relationship runs smoothly at first, the threat of Sydni losing her shop and an unbelievable career opportunity endanger their love story. I've been in the mood for romance lately, so this will hopefully be a satisfying and quick read!
Malibu Rising by Taylor Jenkins Reid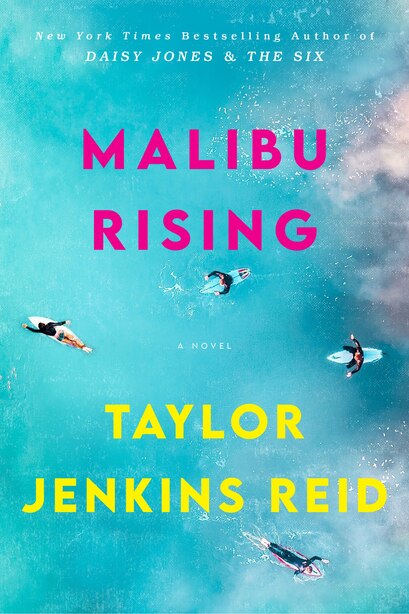 This is by far my most anticipated release for the month of May and one of my most anticipated releases for the entire year. I am a huge fan of Daisy Jones and the Six by Taylor Jenkins Reid, as well as The Seven Husbands of Evelyn Hugo, so I am fairly certain I will absolutely adore this book.
This book takes place in Malibu in 1983 and follows the Rivas family, a fascination by everyone in Malibu being the family of famous singer, Mick Rivas. The story follows the children of this family: Nina, a talented surfer and supermodel; Jay and Hud, a championship surfer and a talented photographer; and baby sister, Kit. It is their annual end-of-summer party, however, by the end of the night, the party becomes completely out of control–leaving the Rivas mansion in flames and secrets slowly unravelling. (Did I mention how excited I am for this book…?)
The Cruel Prince by Holly Black
While I have read this book before (and really enjoyed it), I never got around to picking up the sequel, The Wicked King. Recently, I snagged the sequel at the bookstore, only to realize I barely remember anything from the first book. Before I can dive into The Wicked King, I am going to re-read this very popular and hyped up book, which lucky for me, lived up to the hype. I am not complaining though because like I said, I really enjoyed this story and flew through it.
If you didn't know, this book follows Jude, who when she was seven, her and her two sisters were stolen away to live in the Court of Faerie after their parents were killed. Ten years later, Jude still struggles to fit in amongst the fey, yet she wants nothing more than to achieve this. To win her place in the Court, she must defy the faeries who despise her and her sisters for being human, and channel her own faerie-like trickery and mischief.
Those are the 7 books I want to read during April and May. Let me know if you have read any of these before, as well as what your thoughts were if you have, and also what's on your TBR! As always, I would love to know 🙂
Last Blog Post: My Post-NaNoWriMo Plans
Need a freelance copywriter or social media manager? Visit my website HERE.