Happy Tuesday!
My Beginner's Guide to Greek Mythology post has been blowing up recently, and when I looked back at it because it is at least a year old, I realized there was so little information that I must do a part 2!
If you haven't read the first one, I recommend checking that out HERE because it has a list of the major gods and goddesses which I will not be going deeply into in this post.
Stay tuned for a Beginner's Guide to Aztec Mythology because I love Aztec myths and legends, and think all you history buffs would too!
QUICK OVERVIEW OF THE OLYMPIANS:
THE 12 OLYMPIANS
Zeus – King of Gods, god of the sky, lightning, and thunder, married to Hera, brother to Poseidon and Hades
Hera – Queen of Gods, goddess of marriage and birth, married to Zeus
Poseidon – God of the sea, earthquakes, and horses, brother to Zeus and Hades
Hades – God of the underworld, the dead, and riches, brother to Zeus and Hades
Artemis – Goddess of the moon and the hunt, twin to Apollo
Apollo – God of the sun, healing, and archery, twin to Artemis
Aphrodite – Goddess of love and beauty, married to Hephaestus
Athena – Goddess of wisdom and battle strategy
Ares – God of war
Demeter – Goddess of harvest
Dionysus – God of wine, winemaking, and madness
Hephaestus – God of blacksmiths and fire, married to Aphrodite
There is your little cheat sheet/recap of who the gods and goddesses are, as well as their relationships. Now, let's dive into part 2 where I want to discuss the titans. The titans are even more ancient than the gods, and are important to know of.
A 10 year war waged (known as the Titanomachia) between the Olympian gods and the titans when Zeus tried to overthrow his father, Cronus. Eventually, the Olympian gods won but it was a long, hard battle against the ancient beings.
THE 12 ORIGINAL TITANS
The titans came before the gods and were the children of heaven (Uranus) and earth (Gaea). Their father banished them to Tartarus (the deepest part of the Underworld) however, and the titans with Cronus as their leader, rebelled against him and eventually won power.
When the titans created the Olympian gods, a similar thing occurred. Zeus, son of Cronus and Rhea, banished his father and the other titans to Tartarus after their 10 year war.
Cronus (or Kronos) became the "king" of titans and married his sister, Rhea. Together, they birthed 6 of the 12 Olympians: Hestia, Demeter, Hera, Hades, Poseidon, and Zeus.
Some of the other titans were:
Oceanus – Titan god of the river Okeanos, physically represents the sea
Coeus – Represents rational intelligence
Crius – There isn't too much info on them!
Hyperion – Father of the sun god, Helios, the moon goddess, Selene, and dawn, Eos
Iapetus – God of craftsmen and mortality
Thea – Mother of the sun, moon, and dawn gods
Rhea – "Mother of gods," wife of Cronos/Kronos/Cronus
Themis – Personification of divine order, fairness, natural law, etc
Mnemosyne – Goddess of memory and mother of the 9 Muses
Phoebe – Mother of Leto and grandmother of Apollo and Artemis
Tethys – Goddess of freshwater and mother of over 6,000 children with Oceanus who became rulers of rivers, streams, lakes, etc
THE UNDERWORLD
The Underworld is ruled by Hades and is where all souls go to after death. However, depending on how that person lived their life, where they end up within the Underworld differs.
When a person dies, their soul is carried down the River of Styx (river of hate) by Charon, the Ferryman, who brings them to where they will be judged based on their life. In Ancient Greek times when someone died, their family would bury them with coins (drachmas, Ancient Greek currency) so they could pay Charon for the ride.
There were many other rivers in the Underworld, all with different purposes and punishments. There were 4 others (excluding the Styx) to be exact:
Acheron – the river of sorrow
Cocytus – the river of lamentation
Phlegethon – the river of fire
Lethe – the river of oblivion
Regions of the Underworld
There were 3 places a person's soul could end up in the Underworld and it all depended on how you lived your life. Whether you lived a heroic life or committed crime or were nothing out of the ordinary, it all determined your afterlife.
Elysium
If you were a hero, you would end up in Elysium which is basically the heaven of the Underworld. This was paradise. Those who resided here in their afterlife did not have to work or stress. It is considered the ultimate paradise and is the place every person strived to gain acceptance into.
Tartarus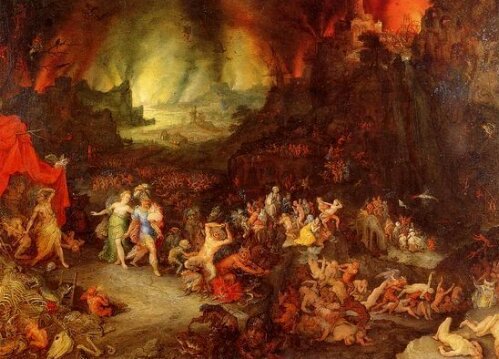 If you were a criminal or an overall bad person, you were destined for Tartarus, which is also where the titans ended up. As Elysium is thought of as "heaven," Tartarus is "hell." One famous figure in Greek mythology who ended up here was Sisyphus. If you've studied English Lit, or attended a high school English class, this name may sound familiar. Sisyphus was a thief and cunning person when he was alive and even cheated death twice. Because of his poor life choices, his own personal, eternal punishment was to push a large boulder to the top of this hill. However, once he reached the top, the boulder would roll back down and he would be forced to start all over again.
Fields of Asphodel
Now, if you lived an average life and did nothing to spectacular or brave, you ended up in the Fields of Asphodel, or the Asphodel Meadows, as a soul aimlessly drifting. You have no purpose and wander the fields not searching or looking for anything in specific because they would have drank from the River of Lethe (river of oblivion/forgetfulness), and have forgotten who they were when they were alive. This is where the majority of people ended up.
*DISCLAIMER* None of the photos used in this post are mine
---
That was a lengthy introduction, but I hope it was helpful and extended your knowledge of Greek mythology. There is a LOT to learn about Greek mythology and the topics I've skimmed over today. To dive even deeper, check out the resources below. They are concise and easy to navigate while being incredibly informative all at once!
Ancient History Encyclopedia – Greek Mythology
Don't forget to check out my last blog post as well as my social media accounts which are all linked down below. Thanks for reading 🙂
Last Blog Post: Self-Care for the Creative