Happy Friday!
Camp NaNoWriMo is right around the corner, which is why I will be sharing 7 tips for conquering Camp NaNoWriMo this July.
What I like about Camp NaNoWriMo is that you get to set your own goal. Instead of a word goal, you can have a page goal or even an hour-related goal. It allows you to really tailor it to what you can honestly achieve. Don't feel forced to try and reach the 50,000 words in one month goal. Do 20,000 or even less if you want!
Even with a flexible goal, it can be hard to make the time to write. Especially with everything going on in the world right now. I recommend using your writing time as you hour or two in the day to escape. While it is essential to be present during some of the crises we face today, it is important to know when to take a breather. Channel all the anxiety, fear, and anger you are feeling into your writing and enjoy your absence from our crazy world for a little bit.
Read on to explore the other 7 tips I have for conquering Camp NaNoWriMo.
1. Spend Time Creating an Outline
Having a guide to what you are supposed to write, and where you are supposed to take your story is one of the main things you MUST do in order to win Camp NaNoWriMo. Even if you are like me and consider yourself a pantser, try and write out the main points of your story and characters in some tangible form. That way, if you don't feel like writing or don't know where to start, you will be able to turn to that outline and feel comforted that at least past you knew where the story must go.
If you don't enjoy outlining, carve out an hour each day for a week or so to spend on your outline. Include an Act I, II, and III with at least 5 major events that occur in each one. Spend time thinking about your characters too. Who are they, what do they like, what are they afraid of? (Check out below for some key questions to ask your characters!) You can make outlining fun too. Put on some music or a podcast and break out your stash of coloured pens and highlighters. I love colour coding when outlining because when you look at your outline during a writing session, it will be easier to find what you are looking for.
2. Install Writing Triggers
Writing triggers are great for getting your mind and body in the writing zone. A writing trigger can be anything from a certain beverage you only drink when it is writing time, or a playlist that you curated specifically for writing. They ensure that when you drink them or smell them or hear them, you will feel obligated to write and hopefully, have a good writing session.
My writing trigger is any lo-fi music, but I do enjoy the Chilled Cow the most. Usually I will just plop my headphones and listen to the Spotify playlist, but sometimes I will play the YouTube videos. They are relaxing and a nice background noise to ensure my mind doesn't wander because this is the biggest problem I face when writing!
3. Complete a Trial Week of Writing
Before July, take a week the month before to test out your writing schedule. This will show you if it will actually work in your day-to-day life, or if you need to choose a different time of day. Make sure you spend 7 consecutive days testing out your writing schedule. Don't skip a day or two in between! If you realize your schedule isn't working, you will save yourself SO much time instead of discovering this when you are actually supposed to be writing. This trial week also serves as a great writing warm-up!
How to Find a Writing Time That Works for YOU:
Ask yourself, "When do I have the most free time?" because this might be when you need to be writing!
Decide if you are more of a morning or night person. This will tell you when you are most creative and productive.
Ask yourself, "Do I work better in writing sprints or straight working sessions?" because this will ensure you get the MOST out of your writing time.
4. Aim Lower…You'll Achieve More
As backwards as this sounds, it is true. If you sit down knowing you need to write like 1,200 words, you might feel a bit intimidated. If you tell yourself that yes, 1,200 words would be nice but for now, I will just try to hit 1,000 words, there is a good chance you will be able to surpass that. This is because once you hit that 1,000 words mark, you will realize another 200 isn't too bad. You are already warmed up and the creative juices are flowing, so what's another 10 or 20 minutes?
5. Reward Yourself
I discuss having a reward system often because it is so important and a huge contributing factor to your success during Camp NaNoWriMo. You need to curate your reward system according to you. For example, some people enjoy experiencing some small rewards after every writing session like a special coffee from the coffee shop or a TV episode. On the other hand, others will enjoy larger rewards after a successful week like going to see a movie or taking an afternoon off.
Rewarding yourself will encourage you to keep writing. It will show you that all your hard work does pay off, thus making you want to keep doing it! Make sure you set limits to your rewards and also guidelines. If you want to have a big reward at the end of each week, how many words minimum do you have to write? Or in your daily sessions, how many words do you have to write? You must know this before you reward yourself, otherwise you will be tossing out rewards left and right, or none at all!
6. Join a Writer's Group
The great thing about social media is that you have a community right at your fingertips. This is incredibly helpful amidst all of this COVID-19 chaos. Whether you join a group of likeminded writers who are also participating in Camp NaNoWriMo on Twitter or Instagram, having others who will hold you accountable to your goals will help you conquer Camp NaNo.
Check in with each other at the end of each day and discuss if you achieved your goal for that day or if you didn't and why. These people can help you work through your struggles and offer you advice because most likely, whatever you are feeling regarding writing, someone else in your group has experienced it too. That is the great thing about forming a community. You will feel less alone in this lonely passion and having those connections will encourage you to write even more!
7. Remember that Camp NaNo is Fun!
Remember that the only person truly holding you accountable is yourself. Don't hold yourself to insane standards, but also do not let yourself slide too much within your goals. Achieve what you can, work hard, but enjoy the experience. At the end of the day, Camp NaNoWriMo is an event where you set your own goals and spend time doing what you love: writing!
Ask yourself: "If I don't hit my Camp NaNo goal, what will happen?"
Nothing! It just means you have more of your story to write, but guess what? You (probably) have lots of time left to do that in next month and the month after that!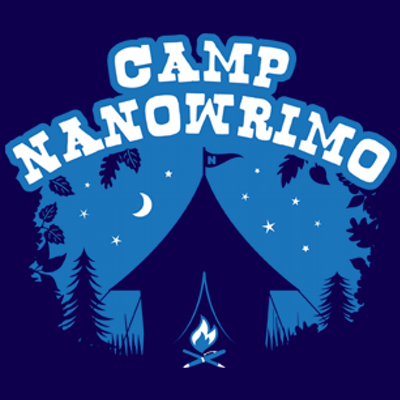 ---
Those are my 7 tips for conquering Camp NaNoWriMo and I hope you enjoyed. If you have any other tips, please leave them in the comments below!
Don't forget to check out my last blog post as well as my social media accounts which are all linked down below. Thanks for reading 🙂