I love Hamilton and I love books so I thought it was about time I gave this tag a try. I have seen this tag done on YouTube countless times and am super excited to answer these questions with my favourite books so let's get into it!
THE QUESTIONS:
1. The Room Where It Happens: Book world you would put yourself in
This is a given because while there are a lot of book worlds I would like to put myself in, the wizarding world in Harry Potter is the best option to be honest. Who wouldn't want to live in a world of magic? Easy question.
2. The Schuyler Sisters: Underrated Female Character
While I wouldn't say this character is exactly underrated, I just don't think she gets enough credit or page time as some of the others. However, I expect she will in the third and final book in this trilogy which comes out in a few months and I am VERY excited for that. The character I am talking about is Christina from The Dark Artifices trilogy by Cassandra Clare! I love Christina, her story, and her potential love interest (hehe) so much, and just wished we saw more of her as opposed to some of the other characters…
3. My Shot: A character that goes after what they want and doesn't let anything stop them
Gansey from The Raven Boys by Maggie Stiefvater is on a mission to find the lost king Glendower, and has been for years. Throughout the story we learn the hardships he had gone through and how quitting sometimes seemed like the best option, yet he still searches because he knows it is what he is meant to do. He definitely goes after what he wants when it is important and won't let anyone get in the way and I admire him for it!
4. Stay Alive: A character you wish was still alive [warn for spoilers!]
IF YOU HAVEN'T READ THE INFERNAL DEVICES THEN DON'T READ THIS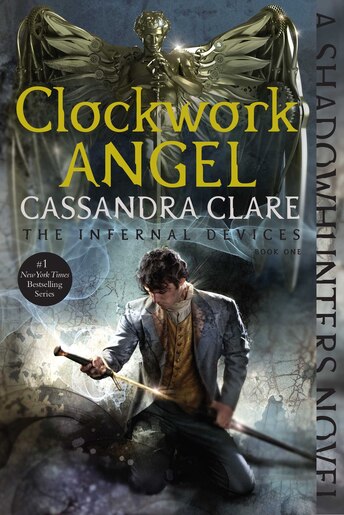 While this character's death wasn't abrupt but natural, something we really don't see that much in YA fantasy, I still would really like Will Herondale to be alive! I loved him and it is terrible that Tessa and Jem have to live on without him.
——–END OF SPOILERS——-
5. Burn: The most heartbreaking end to a relationship you've ever read [warn for spoilers!]
IF YOU HAVE NOT READ ME BEFORE YOU BY JOJO MOYES IT MIGHT BE A GOOD IDEA TO NOT READ BELOW
I think it was pretty obvious what was going to happen by the end of this book with our two love interests, Lou and Will, but I was still NOT ready for it. There was no way of avoiding it with Will's quadriplegia so I didn't expect to cry but I did…a lot.
——-END OF SPOILERS——
6. You'll Be Back: Sassiest villain
Okay…kind of cheating because I haven't read these books but going off the TV show, The Vampire Diaries has some of the BEST villains ever. They are so sassy and amazing and you can see their side of the story with most of the decisions they make. Katherine is the queen of villains but all the others are great as well.
7. The Reynolds Pamphlet – A book with a twist that you didn't see coming [warn for spoilers!]
IF YOU HAVE NOT READ WE WERE LIARS THEN DON'T READ BELOW
Oh my god. I cannot remember a book that blew me away as much as this book had. Maybe some people saw that end coming but I didn't (maybe because I read it between the hours of 12am-3am…) and it CRUSHED me. I grew to like all the characters in this book and then to find out most of them were dead? Like what? I cried. A lot.
——-END OF SPOILERS——-
8. Non-stop: A series you marathoned
When I think about it, I haven't actually marathoned a book series in a really long time. However, I do remember flying through the Divergent trilogy by Veronica Roth and The Selection trilogy (it was a trilogy at the time) by Kiera Cass. I lived in a small town at that time with not much to do so I spent three days on each series reading the books from back to front and then immediately picking up the sequel!
9. Satisfied: Favorite book with multiple POVs
When it comes to multiple POV I usually dislike reading in about 50% of the POVs. However, The Lost Hero by Rick Riordan follows three different perspectives and I love reading from them all. Piper, Leo and Jason are really fun to follow as are 99% of Rick Riordan's characters, and this has been a favourite book of mine since I was really young. Just talking about it makes me want to revisit the characters, as well as the other books which have lots of amazing POVs!
10. Who Lives, Who Dies, Who Tells Your Story: A book/series you feel like will be remembered throughout history
Apart from Harry Potter, I have two answers for this: Children of Blood and Bone by Tomi Adeyemi and The Hate U Give by Angie Thomas. I have yet to read either of them yet (Children of Blood and Bone will be the next book I read once I finish my current reads!), but they have received an amazing amount of buzz. The Hate U Give deals with important topics among our society today that will not be forgotten, and Children of Blood and Bone is also something the world has needed and been waiting for. These books will be remembered throughout history and I cannot wait to give them both a read!
I hope you enjoyed reading my answers to the Hamilton Book Tag and if you want to do it then I tag you! Don't forget to check out my last blog post, and also make sure you follow me on social media for more reading and writing related content 🙂
Last Blog Post: Reading + Writing Update