Sometimes we just need to escape the world and dive into a good book that makes us forget about everything around us. Recently I have been needing books like this a lot, which means I have been looking back at my shelf trying to find the right books to do so. So here is a list of my top 5 books I turn to when I need a distraction, and hopefully they will work for you too!
The Wrath and the Dawn by Renee Ahdieh
This book is inspired by the Arabian story One Thousand and One Nights where every night the king of this land takes in a new wife and when the sun comes up the next day they are dead. After our main character's best friend becomes the next victim of this king, our main character, Shahrzad, volunteers to become the king's new wife in hopes of killing him. However, she manages to survive through the night and then the night after that, and realizes the king may not be the monster she thought him to be.
I had high hopes when I first read this book because of all the great hype it has surrounding it, but I was not expecting to be as captivated by it as I was. The writing is beautiful and rich, and the setting is so vivid that I felt as if I was actually there. From page one I was in love, and it only took me a day or two to finish so if you are looking for a good book to distract you, this is definitely the one!
Obsidian by Jennifer L Armentrout
Obsidian is a genre blend (in my opinion) of contemporary and sci-fi, following a girl named Katy who has just moved to this tiny town in Virginia with her mother after the death of her father. They move next door to two, strange twins, Dee and Damon, and after Katy becomes close with both of them, she realizes they are harboring a dark secret and suddenly is pulled into their crazy world.
This might be one of my favourite feel-good books because it is just a fun and easy read. I always fly through it super fast and I get lost in the thrilling lives of these characters. Of course I have some problems with it, but it never fails to take me into its world with open arms which is what I turn to it for!
Me Before You by JoJo Moyes
Me Before You is an adult contemporary following Lou, a young , twenty-something year old woman who has recently been let go from her job and ends up becoming the caretaker for a man with quadriplegic. He is cold and rude at first, but they soon warm up to each other as the book continues and their friendship blossoms to something more.
This book has all the feels and I read it in one night! I remember finishing it and finally coming up for air, not even realizing it was already the next day. The great thing about this book too is that there is a movie as well that you can watch right after you finish the book. It is really good and stars Emilia Clarke and Sam Claflin so yes, pick it up!
When Dimple Met Rishi by Sandhya Menon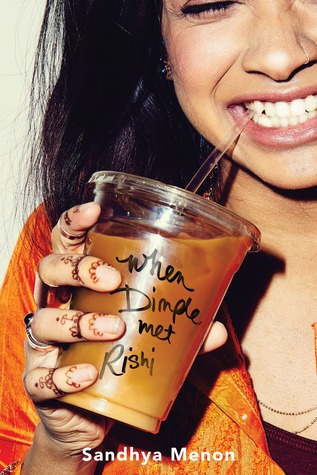 Another contemporary recommendation, but this one is a young adult contemporary which is told from two perspectives: Dimple, who is into the sciences and is a practical girl, and Rishi who is a hopeless romantic. When Dimple's parents let her go to summer program for web programming, she is ecstatic, but what she doesn't realize is that it is a ploy for her to meet Rishi in their hopes of him being her "ideal Indian husband".
Since summer is approaching it is the perfect time to pick this book up and give it a read. It is hilarious and adorable, filled with quirky characters and quirky scenes that you can't help but love. I found this book really realistic in terms of teenage relationships and appreciated it a lot more because of that!
Vampire Academy by Richelle Mead
Lucky for you, this book is part of a six book series! It takes place in a world where three different types of vampires exist: strigoi, the evil vampires, dhampirs, the half-human and half-vampire protectors, and the moroi, the peaceful and mortal vampires. Our main character Rose is a dhampir, born to protect her best friend Lisa who is a moroi. Exactly one year after the two of them escaped their school, they are found and brought back, forced to always be watching their backs because they don't know who they can trust anymore at a school where they are supposed to be safe.
These books are filled with action, adventure, and romance and I promise you will have a blast marathoning this series. I remember reading these books a few years back and being totally consumed by the world and characters for a good week or two. This one also has a movie for the first book, and while it isn't the best book-to-movie adaptation, it is still a lot of fun!
Those are 5 books to distract you whether you just need a break from the world, or are in search of a good book. I hope you enjoyed and don't forget to check out my last blog post from Monday and my social media accounts, which is all linked below 🙂
Last Blog Post: Camp NaNoWriMo: Guide to a Productive Month
Other Places You Can Find Me:
Twitter:@zoermathers
Instagram: @zoematherswrites
Tumblr: @zoematherswrites
Pinterest: @zoermathers