It is about a week after Camp NaNoWriMo and now you are probably wondering what comes next. After an entire month of (trying) to write everyday, you are left with a bunch of words that string together a story. Depending on you and your project, your next step might be totally different from someone else, but here are a few ideas on what you can do next!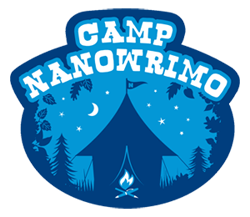 What to Do Next: If You Don't Have a Finished Product
If you are like me, you are only halfway through your project (maybe a bit less or more) and that means there are still words to be written. If that's the case, here are some ideas on what to do next:
Keep Writing – This is what I will be doing, because I got about 40,000 words of my first draft written but a lot more to go. So I will be treating May just like another month of Camp NaNoWriMo. Depending on your writing schedule, try and write a certain amount of words every day or even a few times a week. Whatever works with your schedule.
Take a Break – Maybe you really burned yourself out during April and need a break to replenish that creative well. If that is the case, then do it! Take a few days, a week, or even a couple weeks off. However long it will take for you to get back in the writing groove and write some awesome words. Here are some quick ways to replenish your creative well:

Watch Movies + TV
READ
Journal
Exercise
What to Do Next: If You Are Feeling Uninspired With Your Project
This happens a lot. After devoting an entire month to a project, you might end up hating it a bit. Just remember that is completely okay and I am here with some quick tips on what you should do if this is the case:
Take a Break – Like I mentioned above, sometimes you just need to find your writing groove again. Spend some time away from your project and build up that love again while repairing yourself after a hard month of vigorous writing.
Revisit the Main Idea – Take a look at what your overall goal for the story was, because sometimes you can get carried away while writing and your story will become an entirely different thing. For better or worse. Maybe revisiting your main idea will spark that love and motivation for the project again, and you will be off on another writing journey.
Scrap It – MAKE SURE YOU ONLY DO THIS AFTER TRYING EVERY OTHER TIP, because only then will you be 100% if it is something you don't want to spend anymore time on. Sometimes a story just isn't for you to write and it can take a while to figure that out. Don't beat yourself up if this is the case, and don't feel like you wasted your time either. I can guarantee you came out as a better writer, even if you aren't continuing on with the project.
What to Do Next: If You Have a Finished Draft
If you managed to finish an entire draft in a month, congratulations to you! That takes a lot of blood, sweat and tears but I hope it was worth it in the end. Here are some things you can do next:
Take a Break – Yep, basically after working on any project consider taking a break. I went into enough detail already about taking breaks so do I really need to go over it again? No.
Start Another Draft – Maybe you only finished draft one, or draft three but still think your story could use another go. If that is the case, get writing! Work on creating a more concrete and all-around better story that you love, and that you can only create by writing it a ridiculous amount of times.
Edit – So maybe this was your final draft and you are ready to do some editing. Fun times right? Mmm, maybe, but not usually. Picking apart your story is hard, so maybe after going through it a few times consider getting a friend, a critique partner, or even a professional to look at it.
Submit to Contests/Fellowships/Literary Magazines – Personally, I like to submit short stories and whatnot to contests and other places. If you have a polished project, whether it is a novel or short story, consider sending it somewhere. Even if you don't place or get it published, you can usually score some good feedback!
Querying – I am no expert at querying because I have never finished a novel that I was proud of, let alone good enough to query to agents, but maybe this is your next step. If that is the case, that is really exciting! Since I know nothing about querying, consider checking doing some research whether that is through google, books, AuthorTubers, etc.
That is all for this blog post and I hope it was somewhat helpful. Don't forget to keep writing, oh, and also check out some of my previous blog post and follow me on social media 🙂
Last Blog Post: Reading + Writing Update
Other Places You Can Find Me:
Twitter:@zoermathers
Instagram: @zoematherswrites
Tumblr: @zoematherswrites
Pinterest: @zoermathers