Personally, I enjoy school. I like the structure and organization of it, as well as most of the classes. Especially getting into my last 2 years of high school, school has gotten more enjoyable because I can choose the majority of my classes. But anyways, enough about that. In this blog post, I will be discussing books that take place at schools and just give you that "back to school" vibe that we all love.
Obsidian by Jennifer L Armentrout
I describe this book as a sci-fi contemporary book that follows seventeen year old Katy who has just moved to a small town in Virginia with her mother looking for a fresh start. There, she moves next to two twins named Dee and Daemon Black, and soon she is quickly thrust into their crazy world. Obviously, Katy goes to school through this book, and a new school might I add. Overall though, this is a really fun and quick read that is perfect if you find the back to school time stressful.
Eliza and Her Monsters by Francesca Zappia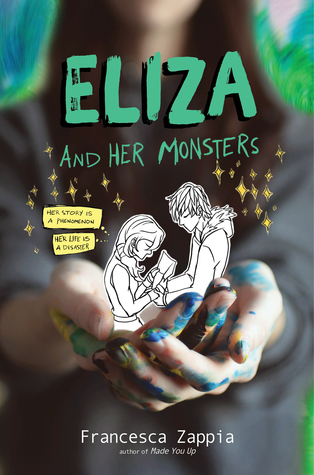 Eliza and Her Monsters is a book that I think a lot of us can relate to. It follows odd Eliza Mirk, a girl who is the anonymous creator of a popular web comic, Monstrous Sea. And while her online life is thriving, her offline life…not so much. That is, until Wallace transfers to her school and she realizes maybe it is worth putting effort into her offline life. This is a really cute contemporary that made my heart and cheeks ache from smiling too much! I flew through this book in a day, so another easy read for back to school.
Harry Potter and the Philosopher's Stone by JK Rowling
Of course this is going to be on this list! Harry Potter, if for some odd reason you didn't know, entirely takes place at a magical boarding school called Hogwarts and gives you all the back to school vibes you could hope for. Harry Potter and the Philosopher's Stone follows eleven year old, Harry Potter, who discovers that he is a wizard. He is then, sent off to this magical boarding school where he learns to control his powers while fighting off an evil wizard that everyone thought was dead. Everyone loves this series because how could you not?
Just Listen by Sarah Dessen
Just Listen and Saint Anything are my top 2 favourite Sarah Dessen books, but since I talk about Saint Anything a lot, I will put Just Listen down instead. Just Listen follows Annabel, a girl who seems to have it all but if you knew her, you would know she has anything but. Returning to school friendless and lonely, she meets another lone wolf named Olly and the two form a very unlikely bond. Another book I just flew through because it was so addicting! Perfect back to school read, and it shows you that if you feel like you don't fit in, don't give up looking because eventually, you will find where you belong.
Vampire Academy by Richelle Mead
I don't want to only include contemporary so here is some supernatural fantasy! Vampire Academy takes place at a, well you guessed it, vampire academy that our two main characters, Rose and Lisa, ran away from a year ago. Brought back, they realize they are still having to face danger despite being "safe" at the academy.  This is part of a six (?) book series that you can't help but binge read because they are so addicting!
Those are a few book recommendations for back to school and I hope you enjoyed. Don't forget to check out my last blog post: July 2017 Wrap Up!